Boilers and radiators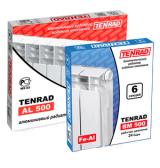 Bimetal radiators TENRAD BM
Radiators TENRAD BM have a bimetallic construction: frame sections are made of carbon steel and enclosed in a heat-release sheath of aluminum alloy.
Radiator`s section has a three-row fin, which provides efficient heat emission at maximum strength.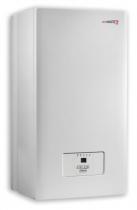 Wall-mounted single-circuit electric boilers PROTHERM
Wall-mounted single-circuit electric boilers from PROTHERM Company have 8 power modifications from 6 to 28 kW. Designed for heating systems, underfloor heating, domestic hot water.
Boilers PROTHERM (Scat) have a number of advantages:
- Reliable and comfortable heating;
- Elegant design;
- Intuitive controls the operation of the boiler;
- High efficiency;
- Displaying of configured settings on LED display;
- Ability to connect an external hot water tank;
- 8 power modifications 6, 9, 12, 14, 18, 21, 24 and 28 kW;
- Adjusting of boiler`s power in steps of 1 kW, 2 kW or 2.3 kW, depending on the type.